Dear friends,
The winds of war are blowing here Israel, and everyone here is a bit tense, but the people who are the most tense are the parents who are now sending there 18 year old children to the army.  One of these people is a BFL member, who went through injury and hell, but still encouraged his son to be a combat soldier. I want to tell you about Aaron.  Aaron was called in 2006 to fight in the Second Lebanon War. During the war, many forces were called upon to cross the Litani River in Lebanon, in order to push Hezbollah far from the Israeli border.
As they crossed the river, Aaron's team was attacked, and a terrorist shot Aaron in his shoulder. Aaron still suffers from this injury today. In the first years after joining BFL, Aaron was less involved, but recently Aaron has been participating much more and his life is changing. Two weeks ago, Aaron's eldest son Noam chose to follow his father's footsteps and joined the army as a combat soldier.
On that day, Aaron's wife Liora wrote us an incredible letter.  I am so proud to share Liora's letter with you.  Proud that Israel has heroic mothers like Liora who is willing to send her son to protect our nation even though she almost lost her husband, and proud that BFL could play a small role in helping Aaron and Liora in their lives.
 A week ago, we were honored to have our son, Noam, recruited to the Israel Defense Forces.
A significant point in our life.
Our child, who was only 8 years old when his father was called to fight in the second Lebanon war.
That same son asked me if his father will come back from the war, but I didn't know what to answer…  He became the man in our house when his father was injured in a battle, and now he is joining the IDF himself.
And when the tears from my eyes couldn't stop from falling, falling because of mixed feelings of anxiety, pride, happiness and sadness, I suddenly got a phone call.
Aaron told me that Brothers for Life wants to give us a gift for Passover.
Amazing how you always show up in the right time, like an angel who watches us from above and knows exactly when to send us a beam of light.
We don't know if our sun is the first soldier that one of Brothers for Life members sends to the army, but you certainly make us feel that you are with us by all means.
There are so many things that we would like to thank you for this year:
The couples retreat, a very significant financial help for Passover and much more
For all that, and more, we want to wish that we all continue to make people happy, to keep our wonderful country and be surrounded with marvelous people who care about us and wish us love, happiness and health.
Thank you for being a shining star for us.
With much gratitude and appreciation,
 Aaron, Liora and the kids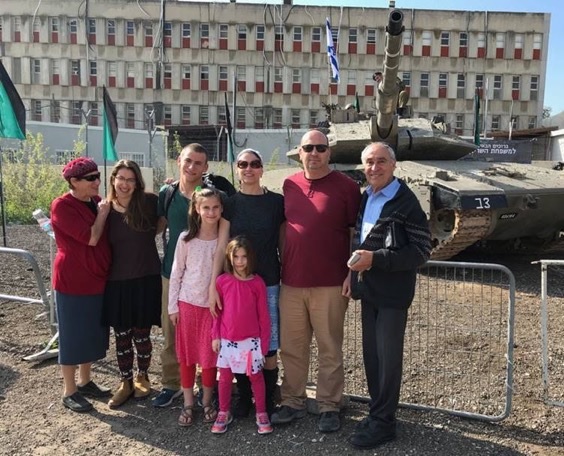 May Hashem keep Noam and all of our IDF soldiers safe in the coming months.
Shabbat Shalom from Israel,
Arale​