Dear friends,
Our BFL delegations change lives.  It's hard to believe that someone  can make a permanent change in 8 days but we have witnessed it countless times.  Below are two heroes of Israel, Moti Grubin and Daniel Seligman, who just returned from our Seattle and Boston delegations.  As much as these delegations impacted their lives, what Moti and Daniel don't realize is how much they impacted the lives of everyone they met.
Moti Grubin, 23 years old, was born in New York and made Aliya along with his family when he was 10 years old.  When Motty turned 18, he decided to join the recently formed religious unit, Nachal Haredi.
When Moti was in Seattle three weeks ago he shared his story for the first time.  While on a mission to stop a riot Moti was approached by a man. The man did not look suspicious but Moti had a sense that something was not right and asked the man for his ID.  As Moti was checking his ID the terrorist lept at Moti and he felt something strike his helmet.  He looked down a second later and saw the terrorist standing over his comrade and stabbing at him. There was blood everywhere.  It was Moti's blood.  Moti tried to reach for his gun but his arm wouldn't move. He then reached up to with his other hand to his neck and felt a large hole. The terrorist had stabbed him with a long knife that had gone completely through to the other side of his neck.
In Seattle Moti shared publicly shared what happened to him for the first time. "I fell to the ground and lost my ability to see. I was then no longer in my body.  I was being called to go but I kept fighting and finally was told, Ok, go back, but make the most of it. I came back into my body and could see again."
The greatest miracle was that while the knife went through Moti's neck, it somehow did not cut any major arteries or nerves.  Two weeks later Moti was out of the hospital and he continues to heal today.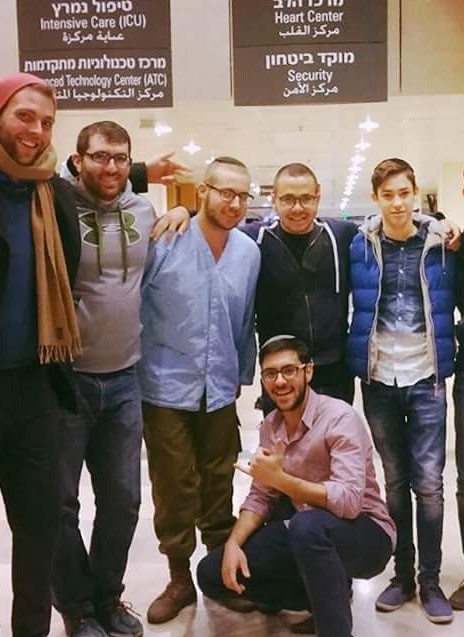 Daniel Seligman, 28 years old, grew up in Tel Aviv and joined the elite Maytar unit in 2009.  Daniel became an officer and later a platoon commander serving in the IDF for over 6 years.  In 2015, just a day after his birthday, Daniel was on a mission in Bethlehem when a cinder block was dropped on him from the roof a building.  Daniel's leg was crushed and he was evacuated to Hadassah Ein Karem, where he underwent a number of surgeries. This was just the beginning of his recovery.  Daniel is a relatively new member of BFL and just two days ago returned from our incredible Boston delegation. With his permission, this is what he wrote about his experience.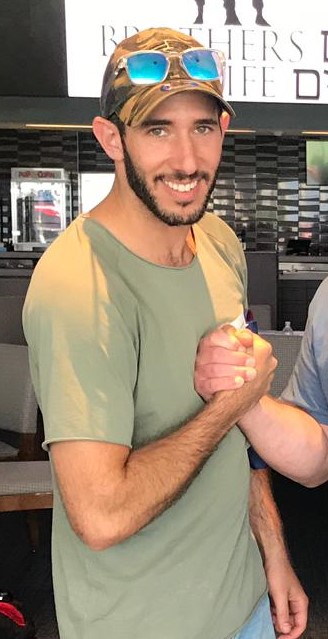 "It's hard to put into words the meaning of this week for me, an emotional roller coaster starting with a honeymoon and a high feeling, arriving at the host family's house and completely falling head over heels with the people and the place, this feeling lasted about two and a half days until we truly got to know one another.  I sat and had deep and meaningful conversations with them strengthening our bond until the roller coaster plummeted, I fell apart, I cried like I didn't cry in ten years.  And they, they just supported me. like it's the obvious thing to do, like we were not strangers from different countries, like we were family.
It took about a day or so but we started climbing again and my spirit lifted.. the longer I stayed the more I realized how much this is a unique and meaningful opportunity,  how I have the obligation to grab it with both hands and make sure I make the most out of every moment it has to offer.
I made the effort to wake up at six every morning, to have breakfast and chat with Jessica, my new older sister and just to see the kids, Sam,
Ben and Josh one more minute before they leave for school and mostly to see the look in Chuck's eyes,  a look that was utterly different from the one he had the first day we met.  I became close with my new found family and in the same way I got close with my Israeli brothers, I learned to know each and every one's story and the hardships they were dealing with.  I hurt for them, at times more for them than I hurt for myself. I realized that I can and will do anything for them, if only to amend a small portion of the suffering that was caused to them, and to me.
I am not the same person since the injury but I am not the same since this delegation.
I found new understanding and tools to deal with every day life and also the future..
I became closer with my faith, I understand now how much it matters, I may not be an observing Jew but i feel more spiritual then ever before, for the first time in my life I have a rabbi. For real.   Saying goodbye was really hard, but it made me happy to know we had made such a bond. One that made it so difficult.
I began thinking about my family in Israel and how much I miss them, how unfair it is that I cannot open up to them as I did here in Boston. I immediately sent them a message,  trying to explain,  but I have no doubt that I will need to have these deep conversations with them too.  this is my next challenge, being vulnerable where I want to be the strongest.
I am excited to walk down this new path together with my brothers and the families,  but mostly with myself. To realize what I'm capable of, not to let myself fall again.
Thank you for this gift, it is unique."
Shabbat Shalom from Israel,
Yaniv
P.S. A special thank you from our hearts to the amazing BFL leaders and host families in Seattle and Boston!