Dear friends,
Most of you have heard of the famous Israeli series, "Fauda" (Chaos in Arabic).  It's about special undercover unit (Yamas) that tries to stop the terrorists before they attack us which often results in a "Fauda".   It's probably no surprise that many of the soldiers in this unit are injured during their service and have joined BFL.  I can tell you that the only true similarity between our BFL brothers and this TV series is that soldiers in this unit are very tough.  Otherwise, these brothers are loyal husbands and some of the nicest people you will meet.
This week, two of our brothers returned to Israel and went  back to their units, after taking part in our amazing BFL Boston delegation.  One of the special aspects of these two injured IDF soldiers is that neither of these BFL brothers are Jewish, rather Mohamed is Muslim, and Abbas is Druze.
Mohamed grew up in a Bedouin family in the North of Israel.  His family has served in the IDF since the War of Independence. When Mohamed turned 18, there was no question that he was going to join a combat unit like his father and grandfather. Mohamed was inducted into Yamas and quickly became an elite soldier in this unit. I want to share something about Mohamed which is unbelievable.  To earn one medal of valor in the IDF during your service is the greatest honor.  Mohamed has earned 5 medals of valor.  Five.
Last Thursday night in Boston Mohamed shared his story for the first time.  In 2003 Mohamed and two of his soldiers were sent in a small civilian car to Tulkarem to capture a terrorist who was responsible for large terror attack in a mall in Netanya.  When they finally saw the terrorist, the element of surprise was lost, and this is when the "Fauda" began.  The terrorist opened fire on their car with an M-16.  Miraculously, all the bullets hit the car or passed by Mohamed and his team without striking him. At one point during the battle Mohamed was struck by a bullet in his arm but he kept fighting.  Mohamed and his team were successful in the mission and were able to escape from the village alive, which was more dangerous than the mission itself.
After three months of rehabilitation Mohamed was back in his unit. He injured for the second time a few years later and today is a commander.  Mohamed spoke of his gratitude to the Jewish community of Boston for their love of Israel and dedication to helping injured IDF soldiers like himself.   We are beyond privileged to have Israeli soldiers and BFL brothers like Mohamed and Abbas who have dedicated their lives to protecting Israel.  We are humbled to have them amongst us.
With Love from Israel,
Arale
I want to take this opportunity to thank our incredible partners and host families in Boston.  Thank you for everything you are doing for our brothers. We love you all!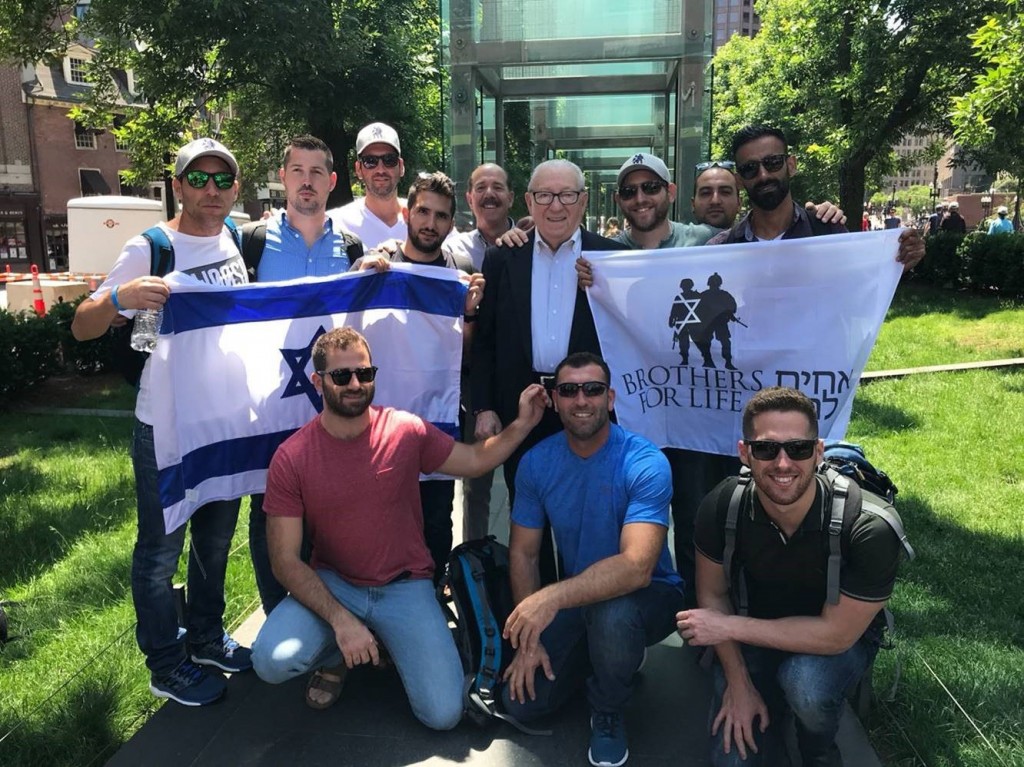 BFL delegation at the Boston Holocaust Memorial