Dear friends,
On this day of Chanukah, 12 years ago I suffered a terrible injury, I lost a part of myself, a part of my personality, a part of my independence. But on that day, 12 years ago I also got a one-time opportunity to build my life back in a better, more meaningful way, in a way that I love so much. You and our beloved organization have a huge, vast and directly connected part to who I am today, and I will always be grateful for that.
Two weeks ago, I spoke in front of 1,000 people at JNF Negev dinner in Toronto on behalf of BFL. I'm happy to share that speech with you today, I spoke in honor of all those brothers who can't talk, and in honor of all of you.
"In 2003, I put on the crimson beret of an IDF paratrooper, and wore it proudly until I was wounded in 2005. I bare profound wounds that I incurred while protecting my family, my nation and am Yisroel.
 Though  man would ever ask for the hurt that I experienced, I will tell you honestly, and with all my heart, that I would do it all over again in a heartbeat.  
From childhood, I was taught, that as a Jew, I was not just an individual, but rather that I was part of something very special; a link in a long, unbroken chain, which started thousands of years before I was born and that will continue long after I am gone. 
As children, my older brother and I use to compete over who would have the honor of taking off my father's boots when he came back home from his IDF reserve service.
 My childhood hero wasn't Michael Jordan or Justin Bieber. it was my neighbor, Ohad, who served in an elite IDF unit and lost his leg when fighting in Lebanon.  he wasn't my hero because he was big and strong and cool, though he was, nor because he was profoundly injured, he was rather, he was our protector. A man so brave that he thought of nothing but risking his body or sacrificing his life to make it safe for me and my family to live a normal and carefree life, in the state of Israel.
 When I was old enough to enlist to the IDF, there was no question in my mind that I would seek an elite unit and I was proud beyond words when I joined the paratroopers, and ultimately became an officer.
In 2005, on the 3rd night of Chanukah, my unit was to be deployed to Nablus so, after lighting the menorah, spinning the dreidel, and eating sufganyot with my soldiers, we deployed. We were tasked with pursuing a Hamas operative who had been recruiting children to attack Israeli soldiers and Jews in the area.
After successfully completing phase 1 of our mission, we remained on station to cover another IDF unit, which was digging out a cache of weapons and ammo that had been buried in a kindergarten sandbox.  I assume the contrast isn't lost on any of you. we teach our children about miracles while our enemies drape their children with bombs and hide weapons in their playgrounds.
 Our mission took all night and it was 5:00am when my commander finally told us to head back. We piled our team, our k-9 dog and the captured terrorist into the back of our truck and set off for our base. we'd been driving for only two minutes when a terrorist threw a Molotov cocktail at our vehicle. That bomb exploded against my window. there was fire everywhere. On the truck. On my weapons belt. On my body.
 I shouted at my driver to stop. He tried to slam on the brakes. Nothing happened. Our brakes had failed. The truck sped. The fire spreads. I knew it's not going to end well.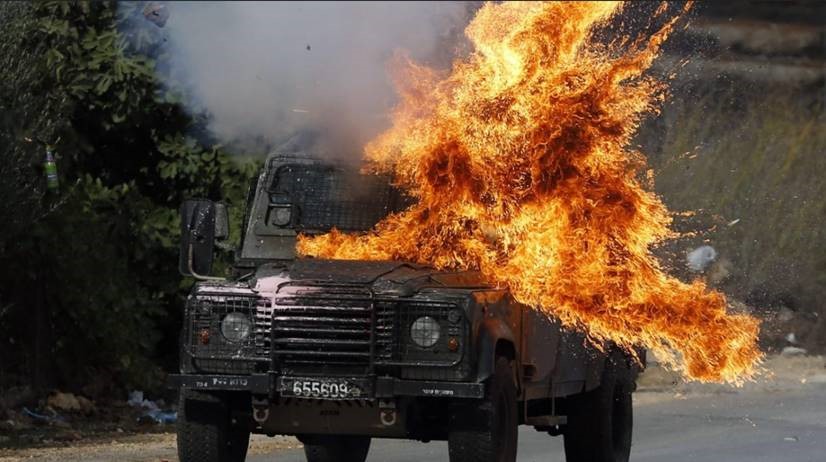 I was a human bomb, carrying several grenades and a backpack filled with c4 explosive, and burning like a torch. with no way to slow down, no way to put out the fire, I knew what I had to do. I jumped out of the car.
 As you see, I am standing here. so, I obviously survived. Thankfully, my men escaped with only minor injuries.
 I guess that the fall from the car and the dirt from the road must have extinguished the flames. Unfortunately, not before I was burned over my body. worse, the fall from the car broke my spine.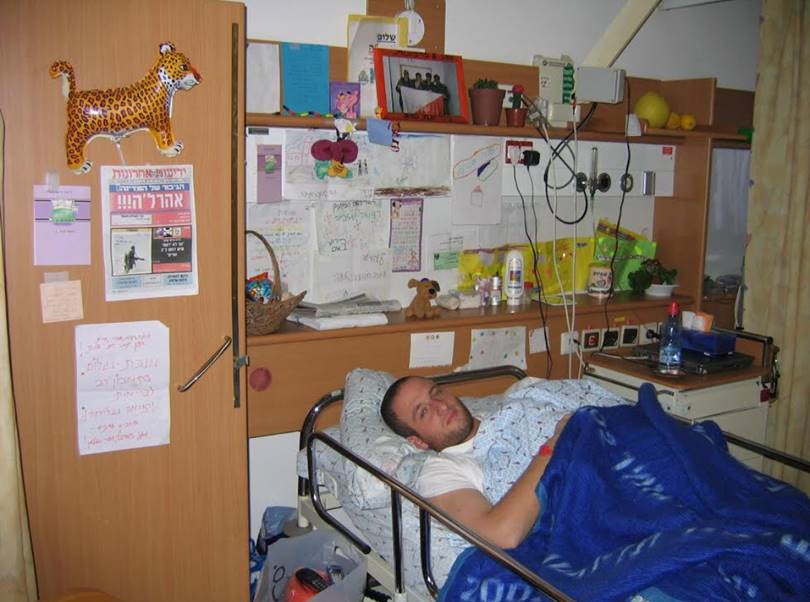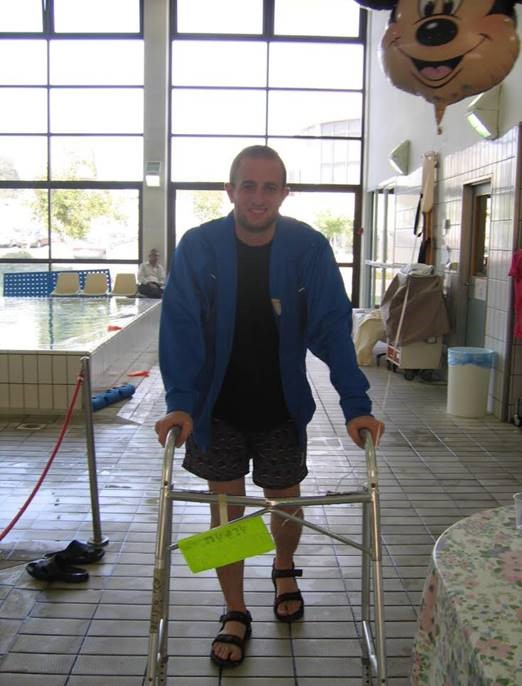 But I was lucky.
 With long ongoing rehab and the love from my family, I began to recover from my physical injuries.
 However, one day I was a Paratrooper officer.  standing tall, proud, trusted to protect Israel. The next day, it was all over. I was incapacitated. No longer a whole man. No longer able to stand, let alone protect my country and all of you. Ironically, I had become my hero (Ohad).
 Baruch Hashem, that is when Gili, a young officer from an undercover unit, who was shot through the neck and survived called and talked to me about "Achim LaChaim- Brothers for Life," an organization that he and a couple of other wounded combat veterans had founded to help wounded combat veterans get on with their lives.
 Gili told me that if he survived, and can walk, run, dance, and live and love, then surely, I can too.
 I spent countless hours sitting and speaking with Gili and the other Achim (brothers). They shared their stories, their own struggles and experiences adjusting to life after sustaining a combat wound. Together we healed and grew and empowered one another.
 With their help, and with a lot more love and help from my family, I did get out of that wheelchair, returned to my wife, and went to law school.
 Then…. I realized that if I could get out of my wheelchair, walk, run, dance, live and love, then surely, I could help others do that as well.  And so, I joined Achim Lachaim fulltime in 2010 and now spend my time helping other wounded combat veterans. Once proud warriors, now stuck and thinking dark thoughts – I help them get on with their lives.
  You see, as it turns out, you can give a man a prosthetic leg. But even the best doctors in the world cannot give you a prosthetic soul."
I could never give that speech without the love and support from all of you throughout the years.
I'm blessed to be able to do what I'm doing, and every time I'm asking myself why I'm doing it, the answer is for all of my brothers who are still stuck and fight reclaiming their lives.
Although I'm in a very good place in my life, it wasn't always like that. BFL, you, my family helped to get here.
That's my personal Chanukah update.
Love from Israel,
Arale