Dear friends,
As many of you know the number of injured soldiers joining BFL has unfortunately doubled after the 2014 War in Gaza. We do not want any more new injured IDF soldiers. We will never give up the dream that one day, we will have peace. Until then, we will be here to help every injured IDF soldier reclaim his life.
Just six years after the war, our young soldiers injured in Gaza are now the new leadership of BFL! I love this because we have built a living model and now have soldiers in their mid-twenties who are mentoring newly injured soldiers.
I'm excited to introduce you to two of these young leaders, Oz Ronen and Ben Markovitch who have recently taken leadership positions at BFL. I asked Oz and Ben to write a few personal words to all of you.
Oz Ronen, Financial Assistance Program Leader
My name is Oz Ronen, and I am 27 years old. I served as a sniper in the elite Golani Reconnaissance unit for three years. In 2014 during Operation Protective Edge we were ambushed by Hamas snipers. My bulletproof vest caught the first bullet, but a second bullet went through my elbow and into my chest, stopping at my right lung. A field doctor performed emergency lung surgery that saved my physical life.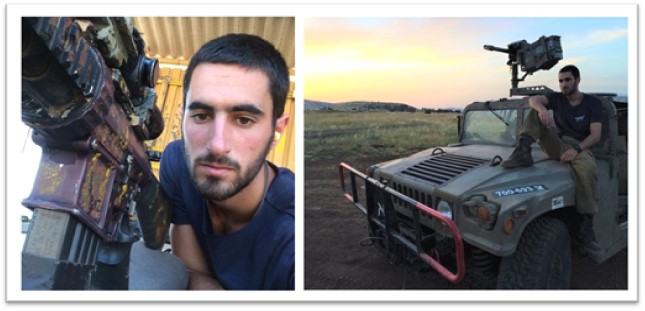 Though I survived physically I was in rough shape in the hospital. In the hospital, my BFL brothers came to my bed, and I must say that they also saved my life. The support they gave me through every step of my recovery kept me going through the darkest moments. Today I am close to completing my economics degree and have been using my education to lead BFL's Financial Assistance Program. My team and I help soldiers and their families get out of debt, budget and manage money, get loans, and save for the long-term. Having been in the chaos of battle I don't want to see other recovering soldiers face financial chaos when they return to civilian life. As I watch brothers and their families go through the financial healing process, I continue to heal through their healing. It's such a privilege.
Ben Markovitch, Education Coordinator
My name is Ben Markovitch, and I am 29 years old. After basic training and Arabic study, I served in the elite Unit Egoz, which specializes in guerrilla warfare, special reconnaissance, and direct action. During Operation Protective Edge I got hit by a shrapnel blast that ripped through my shoulder. When I opened my eyes in the hospital, Brothers for Life members were there waiting for me. They looked at me and said simply, "Everything will be fine brother, we are with you." Their words came true again and again. I owe most of my rehabilitation to them.
I just joined the BFL team as a coordinator in the Education and Scholarship project. I manage the scholarship program and guide our members who want to study but need help. I build work plans for them and get them into classes like English and Excel that prepare them for business while also benefitting them in their personal life. As I help them to learn, I also learn about the power and satisfaction of giving back to others.
Oz and Ben are not just the future of BFL, they are the future of Israel. We are honored to have them with us.
Shabbat Shalom from Israel,
Yaniv